Meet (some of) our wonderful team!
We pride ourselves on being a small family run business here at Strawberryfield Park. We have grown from strength to strength and although we may not have some of the perks that come with being a large corporate business, we definitely have the personal touch and go above and beyond for our guests. With just 12 members on the housekeeping team, 6 on the maintenance team and 6 on the office team we all contribute in our own way to giving the most perfect 5* experience we are renowned for.
'Things to do in Somerset'…. That's what you've typed in to google in the hope of finding the best recommendations, right? But aren't the hidden gems the best? The ones that don't rank high enough on google.
Well, luckily enough, our team love being asked for recommendations and can offer a world of local knowledge. Meet the team below and see our beautiful area through our eyes….

Mike- Park Owner
"Hi, I'm Mike and I'm the MD of Strawberryfield Park. My son Tom and I have lived here for the last eight years, moving from our family home of twenty-nine years in neighbouring Rodney Stoke to set up our new venture. That's now history. I'm deeply rooted to this part of the west country, in particular Cheddar, Wells, and the surrounding villages.
Together with my band of merry men and women we have built Strawberryfield Park from its beginnings as a redundant strawberry fields and disused farm shop into one of Somerset's premier five-star resorts. I'm passionate about sharing this beautiful place with our guests, some of whom love it so much that they have stayed twelve times or more. That's a real testament to what Strawberryfield Park is about and to me, makes all the effort worthwhile.
As a local, I'd like to share with you some of the special things I like to do and the places I like to visit.
An absolute must for all guests is the hidden gem that is The Bishop's Palace Gardens, Wells. It's a beautiful and tranquil place throughout the year but particularly now, during February, when you will be treated to a beautiful vision that is the white deep pile carpet of Snowdrops like scatter rugs beneath the trees. The gardens are vast, fourteen acres in all, and are split into pockets of formal flower borders, quiet spaces with wildflowers and trees, and of course the well garden from where Wells gets its name.
If you visit on a Wednesday or Saturday, you can take a stroll through the various stalls in the Market Place that will lead you through the stone arch and towards the Bishop's Palace. From the Market Place you can also access the stunning West Front of Wells Cathedral and Vicars Close, the oldest complete street in Europe. This formed part of my school run route for many years, and to this day it ceases to amaze me how it was built over 800 years ago. It is unquestionably one of the most beautiful English Cathedrals. Check out the Farmers Market on Wednesday, in particular the stall selling home-made Scotch eggs. They're delicious, and a special favourite of mine and many returning guests!
After wandering through the gardens and market, and particularly during warmer times, relax in the shade of The Swan Hotel Garden, on Sadler Street. From here you can fully appreciate the West Front of the Cathedral in full sun. An absolutely stunning view and oddly one not featured on the hotel's website gallery! Oh, and they serve a decent pint of Thatcher's Gold Somerset Cider for those who might need some light liquid refreshment!
For music lovers, my second recommendation is Sunday evening at the onsite Cider Barn. This is a converted agricultural building, concrete floor, block walls and tin roof. No need to dress up, but what you will find in abundance is atmosphere, soul, and live music. The landlord, Jason, and his team will extend a very warm welcome. The local (and sometimes not so local) bands vary from Country and folk to blues and rock, sometimes loud but the acoustics are great! As the name might suggest there is a wide selection locally produced ciders, you can see there's a theme developing here! A wide range of other drinks are also on offer, including local beers, and don't forget to sample the homemade pizzas – they're legendary. The Cider Barn isn't huge, and it does finish early-ish, around 10.30pm, so an early start is advisable to make the most of your evening.
If you, like me, love nature then finally, and to lose the Cider theme, this one is for you! Enter BA6 9SX into your sat nav and head off to Ham Wall Nature Reserve near Meare, Ashcott. It's about a 30-minute drive, but well worth the effort. This time of year you will be amazed at the Starling Murmurations. Once parked you will need to walk for about 30 minutes into the wetland along level paths until you get properly into the reed beds. Wait patiently and just before dusk, from about 4pm onwards you'll see the sight of your life. Starlings leave the marches during the day to feed and return to roost within the reedbeds. Millions of birds fly in unison, swooping and diving as one huge black cloud. You may be lucky enough to experience this closely or even overhead creating a sound like a sky full of drones. It's truly magical and will leave you speechless during their display. There is a small charge for parking and the proceeds go to the RSPB. Coffee and tea is also available from a small catering hut. Of course, if you choose to take in some refreshing beverages on the way home, then who am I to deter you?! Several great pubs will adorn your route back but check out The Swan or The George in the upmarket village of Wedmore, which are also a good option for supper.
If local history, beautiful gardens, tranquil spaces, the natural world, great local produce, great local cider, the outdoors, the indoors and any of the above suggestions appeal to you, then I sincerely hope these few ideas tick some boxes for you and help to make your stay at Strawberryfield Park a memorable one.
I'm predominantly to be found on the park and often in the Cider Barn, and I'm always glad to chat over a pint! Myself and my ever-helpful team are also here during working hours and will be happy to share information about local or seasonal events tailored to you and your families' interests.
Cheers!"
Picture credit: Countryfile , Britain Express , Third Eye Traveller
Lucy- Guest Relations
"If you've spoken to the team by phone or email the chances are, it was me! And if you've stayed with us, then I would have been the one popping to say hello! I live in Brent Knoll with my husband and cat, Dolly. As a keen 'foodie' I thought I could give some inspiration for those who also arrange their day around their next food fix, just like me…
For me, a day well spent is a 'food tour' of Bristol (40 mins from the park). Grabbing things at different places whilst taking in the sights of the city. Here is a little bit of info on the Bristol food scene:
Visit Cargo at Wapping Wharf, a food market made up of shipping containers on an old dock. It is run by a broad range of super talented Bristol independents with lovely places to sit along the old cargo dock. Visit 'M Shed' museum whilst your there to learn about the history of Bristol.
Wonder along to St Nicks covered market that has been trading since 1743. With a food hall in the glass arcade full of pop-up traders showcasing incredible street food, your taste buds won't know where to begin.
Top Tip: Visit on a Thursday or Saturday and you can also visit Harbourside market. Grab your favourite dishes and sit along the canal for a 'tapas' style feast alfresco!
Visit The Avon Gorge Hotel bar – The White Lion for dinner, drinks or just a hot beverage and sit outside to take in the best view in the city!
Take yourselves on a Banksy tour, viewing the original artwork of the incredible Bristolian, first-hand.
Bristol is by far my favourite city, modern and multicultural with, in my opinion, one of the best food and drink scenes there is, enjoy!"
Picture credit: Visit Bristol , Somerset Live , Bristol Post
Sophie- Maintenance Administrator
"Hi, my name is Sophie, and I am part of the office team as the Maintenance Administrator here at Strawberryfield Park.
I live in Wells, with my husband, two young children that are always keeping me on my toes and our cockapoo Milo. We love to be outside getting fresh air and burning off lots of energy (well they do, I enjoy the hot chocolate!)
I'll share a few of my favourite things to do in the area-
Deer Leap, Wookey Hole holds a special place in my heart with the breath-taking views over the countryside, I would highly recommend going to watch the sunset on a clear day. If you walk halfway along the field, there's a little curved wall that you can sit in front (open a little bottle of fizz, if you're like me) and watch the sun go down.
Glastonbury Festival is a firm favourite of mine, 10 minutes from home but feels like you could be anywhere in the world. If you haven't ever been, you must! As well as all the music and entertainment my most favourite thing to do which I do every year is walk up to the Glastonbury sign and look over the whole festival at night-time, everything is lit up and glowing- it's really the most amazing view!
If you're a fish and chips lover- with a view of Chew Valley Lake, The Salt and Malt is the place to go, 20 minutes from the park you can do a woodland walk, a play in the park and then relax with stunning views and the most delicious food.
We hope to welcome you soon!"
Picture credit: Somerset Live , Outdoor Active , Chew Valley Sailing

Linda- Office Manager
"My name is Linda I am office Manager at Strawberryfield Park. I am originally from Ireland but have been lucky enough to live in Draycott for the past 7 years. I am married with 2 young children, so our lives revolve around them. During lockdown we really explored the local area, we were always looking for an adventure. If you love the outdoors come and visit us here at Strawberryfield Park, you will be spoiled for choice. Here are some of our favourite walks
Cheddar Gorge Walk – (you can start this walk from the Park – cross the road and take short lane then take a left on Top Road) Not for the faint hearted but worth it for the panoramic views of Cheddar and surrounding areas.
Ebbor Gorge – (a 12-minute drive from the park) this walk is full of adventure, lots of climbing opportunities for the little ones. Wear good footwear and clothing for this one as there is likely to be some mud and brambles about.
Rodney Stoke Nature Reserve – A beautiful amble around the local area where you can take in the beautiful sights of the Somerset Levels.
If the elements are against you and you need to entertain the little ones here are a few ideas for indoor activities:
Ocean Adventurers – Cheddar
The Square – Wells
Playbarn – Farrington Gurney
Puxton Park – Weston-Super-Mare
Clip and Climb – Weston-Super-Mare
Have a great stay!"
Picture credit: BBC , Ocean Adventures , UK Southwest
Jess- Social Media/ Interior Design
I Live in Lympsham, a small little village 25 minutes from the Park.
I have a 12 year old daughter, a 15 month old Son and a 2 year old Fur baby Labrador- Hugo .
We love to go on a dog walk and café stop to Uphill just outside of Weston Super Mare. It is a little hidden Gem. A pretty little seaside village with a boatyard, nature reserve and beach. We then follow with a pit stop at Boatyard Café which do the world's BEST chocolate and walnut brownies and Hugo enjoys a puppychino. The Ship Pub (the oldest pub in Weston!) also provide excellent pub grub, I would highly recommend visiting!
Picture credit: What Pub , UK Southwest , Uphill Boatyard Café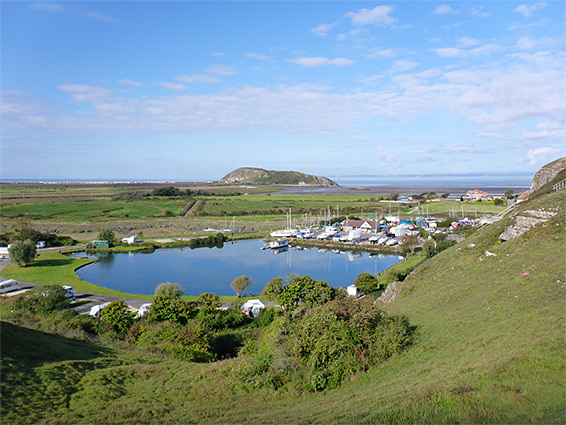 Other points of interest from the team:
Shepton Mallet Prison Tour https://www.sheptonmalletprison.com/
Cheddar Reservoir Water Sports https://www.bristolwater.co.uk/home/community/discover-our-lakes/cheddar-reservoir/
The Strawberry Line https://www.thestrawberryline.org.uk/
The Apex https://www.burnham-on-sea.com/tourist-information/apex-leisure-park/
Caving https://discovercheddar.co.uk/caving/
For further information and recommendations tailored to you and your stay, please do get in touch with our friendly team by phone or email!